Dr Sekhar Basu was appointed as Secretary of India's Department of Atomic Energy and chairman of the country's Atomic Energy Commission. Basu, who is director of the Bhabha Atomic Research Centre and chief executive of the Nuclear Recycle Board, takes  over from Dr R.K. Sinha who retired in October.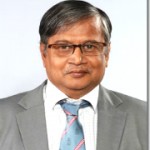 DNA reports that Basu was involved in the commissioning the land-based Nuclear Submarine Propulsion Plant at Kalpakkam  near  Chennai. He is one of the architects of India's 80 MWe compact Pressurized Water Reactor which will power Arihant, the country's nuclear-powered submarine.
Bloomberg adds: he has designed and built reprocessing plants, fuel storage facilities and nuclear waste treatment facilities at Trombay, Tarapur and Kalpakkam. He has guided R&D on the Joule Melter, taking the design to maturity, and has also been responsible for the remote decommissioning of the Joule Heated Ceramic Melter which was used for vitrifying High Level Waste at Tarapur. He took up the design of the first Integrated Nuclear Recycle Plant and paved the way for complete solutions to the back-end of the nuclear power program. Basu is a 1974 engineering graduate of the Victoria Jubilee Technical Institute, now known as VJTI.