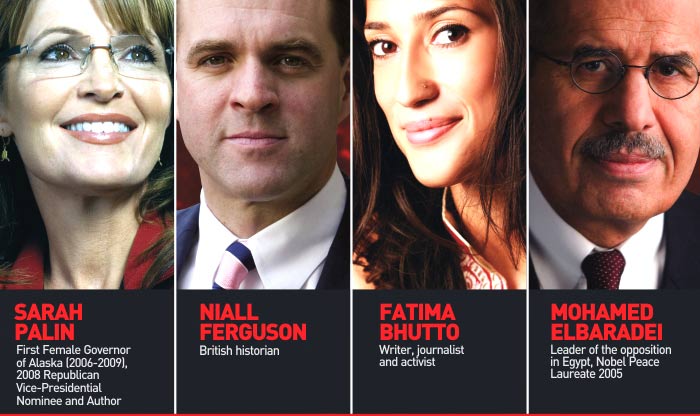 Sarah Palin and her husband Todd spent a couple of days in India. Palin was paid to speak at India Today Conclave,  via the Washington Speakers Bureau, according to a report in the New York Times.
The report also says:
Ms. Palin made numerous references to America's entrepreneurial and pioneering spirit, and India's unlocking of the same to become a vibrant global giant. Together, she said, the two countries will lead the world in the 21st century. "There is no natural limit for United States and India relations," she said. India is the second-fastest growing major economy in the world after China, but is still hobbled by extreme poverty, inefficient infrastructure and political corruption. Ms. Palin and her husband, Todd, were in India for such a short time that they did not get a chance to see the Taj Mahal, in part because it is closed on Fridays, the only day they had free time. Instead, according to local media reports, they went to one of New Delhi's glitzy new shopping malls.
A report from the Associated Press added
"Free people that make up a free country don't wage war on another free country," she said. "I want peace on Earth." Paling  questioned the Chinese military's ascent, saying the Communist country's stockpiling of ballistic missiles, submarines and "new-age, ultramodern aircraft" seemed unjustified when it did not face an outside threat. "What's with the military buildup?" she said. "China's military growth can't just be for defensive purposes."