Bangalore-based Microsoft Research India investigates machine learning, natural language processing, algorithms, cryptography and data sciences for the company. It also explores creating technology for emerging markets. Successful projects are scaled up, and sometimes they are also taken to other markets.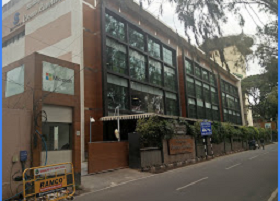 CNBC reports on some current projects from the research lab:
Melange: is trying to study multilingual speech that can help to humanize virtual assistants in the future, and make them more accessible to the developing world.
HAMS or Harnessing Automobiles for Safety : uses sensors such as a smartphone's front-camera, a phone's GPS and a vehicle's on-board diagnostics scanner to detect and alert if a driver is distracted or sleepy while driving.
99DOTS: looked at low-cost ways to ensure tuberculosis patients regularly take their medication.
Sangam:   trains blue collar workers.
"One of the things that we're trying to do in Microsoft Research is to predict and invent the future," Sriram Rajamani, managing director of Microsoft Research India, told CNBC.