At 250 acres, India's largest medical devices park started operations in the outskirts of Hyderabad in the state of Telangana. K.T. Rama Rao, Minister for IT, Municipal Administration and Urban Development and Industries, who inaugurated the park, said, "We will provide all the necessary facilities to develop this park into a dedicated ecosystem for MedTech innovation and manufacturing of medical devices."
With an aim to promote innovation through incubation, the facility will work closely with the Indian Institute of Information Technology Hyderabad, which will provide expertise in medical technology utilization for alloy works, plastics and medical electronics. It will also provide guidance in the use of biotech components such as DNA proteins and reagents, IoT, imaging, voice and data processing, among others, reports Pharmabiz.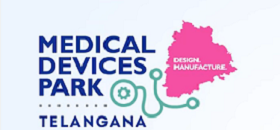 Fourteen companies, including Apollo Hospitals, Cyient Limited, Sandor Medicaids, Healthware Private Ltd, Sanofi Shantha Biotech, and Hetero Drugs have been allocated 50 acres of land in the park, where they will invest over $65 million (Rs 425.59 crore) and create direct employment for nearly 4,000 people.