On June 20, India announced a number of  measures to ease foreign investment in defense, civil aviation, pharmaceuticals, retail, food trade and broadcasting. The Federal Government has liberalized the FDI regime with the objective of providing a major impetus to employment and job creation in India.The government's action opens up more than a half-dozen sectors to 100 percent foreign investment. The decision was taken at a high-level meeting chaired by Prime Minister Narendra Modi. This is the second reform after the last radical changes announced in November 2015.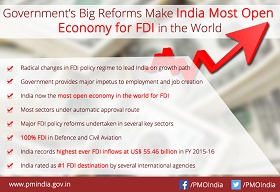 India's commerce and industry minister, Nirmala Sitharaman, told reporters that "definitions will have to be simplified, and clarity will emerge." The Washington Post quotes Amber Dubey, partner and head of aerospace and defense in India at the business consulting firm KPMG, who said that "easy terms like 'modern technology' will allow most leading defense companies to come in unhindered."
The government relaxed local sourcing norms for up to three years for single-brand retail trading of products that have "cutting-edge" technology. This will likely benefit Apple which had applied for exemption from the government's rule of the 30 percent local-sourcing norm. The company will now be able to open a chain of branded stores in India. Ikea will also benefit from these relaxed norms.
100% foreign investment in civil aviation and foreign pharmaceutical companies being allowed  to invest 74 percent automatically in existing brownfield projects without government approval, are two other positive policy reforms.
"The opening up of food trading holds the most promise and is likely to generate real investment," said Richard M. Rossow, an expert in U.S.-India policy studies at the Center for Strategic and International Studies in Washington.